Words from the Woods July 2018
11th July 2018
We've been super busy since we got back in January with coppicing contracts, Woodshare, Full Cycle, environmental arts projects, woodland camps and carving courses with 100s of people coming and enjoying all manner of fun in the woods. Its good to be back in native British woodland and enjoying what the seasons bring... best wishes Gareth and Ro
A letter from David Attenborough
We're so excited to have received a personal letter from David Attenborough commending the Litter Monster project we've been running for Eden Rivers Trust. The final exhibition is on show at Tullie House, Carlilse until Sept 30th. We've had a great time with the 79 kids from Eden catchment, exploring rivers, picking litter and creating monstrous works of art working with Rag Tag Arts and Gorgeous Media. It's been wonderful to see the children's passion for looking after their river environment grow.
"Dear Litter Champions of Eden, I'm delighted to know that you are helping to fight the plastic and litter problem in our seas and rivers. If everyone plays their part, as you are doing, our planet will be a cleaner and better place for the future. I wish you every success in your continued efforts. with best wishes David Attenborough" — Sir David Attenborough
BioBlitz Success
A BioBiltz is an intense period of biological surveying in an attempt to record all the living species within a designated area (in this case Bowkerstead Farm, Grizedale). Groups of scientists, naturalists and volunteers conduct an intensive field study over a continuous time period. In 24hrs the Rusland Horizons' Bioblitz coordinated by Clare Dyson managed to increase the previous baseline data of 22 known species to more than 390 with some species still to be identified by experts. Whoop whoop! See upcoming Rusland Horizons events.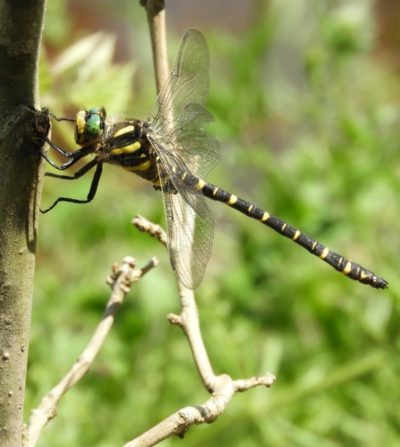 Explore What Matters Woodland Retreat
We're excited to be partnering with Scotty Johnson (Explore What Matters) to create a hammock camping experience over two days that gives you the space and time to pause, reflect and explore what matters to you whilst enjoying campfire cooking and spending time on creative greenwood projects. (18yrs +)Through guided sessions and time in the woodland camp, you will explore who you are, where you are going and how you are going to get there, helping you feel more secure and positive about your place in the world. The camp is an opportunity to focus on the basics and to develop habits for greater well being. "Connect with nature, re-connect with self"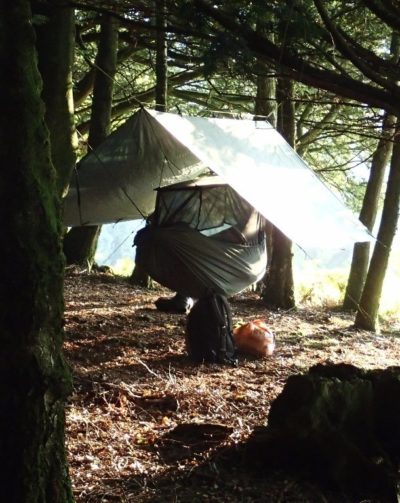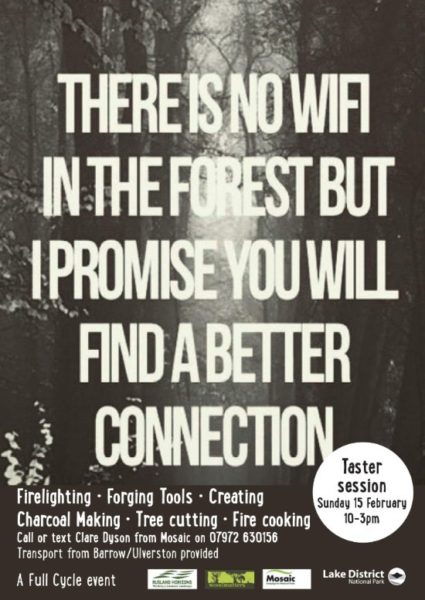 Full Cycle
We're mid way through this year's Full Cycle project in partnership with Rusland Horizons, Cumbria County Council's Health & Social Wellbeing System and South Lakeland Mind. Deepening connections with Nature, finding space and calm in the woods, experiencing the full cycle of the woodland year...coppicing, whittling things from harvested wood, charcoal making and ultimately using the charcoal in a primitive forge to make their own knives later in the summer.
Cumbria Woodlands Ash Project
In autumn 2017 the Ash Conference was held at University of Cumbria and brought together leading academics, practitioners and experts in the issues presented by ash dieback. Cumbria Woodlands have produced a selection of films to explore the heritage of ash in Cumbria, the impact of the disease and how to respond.
View the Cumbria Woodlands website for more information.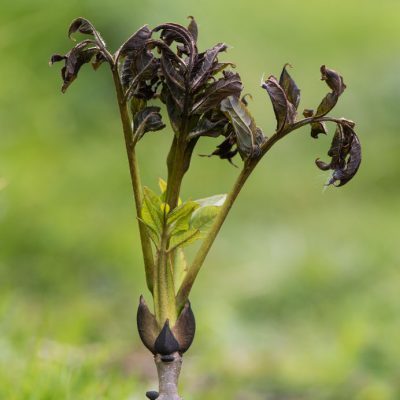 Vicarage Story Tree Project
We've been working with the Vicarage Park children to create a story tree in their willow story circle they planted with us last year. Through whittling wood, designing story cubes, and exploring descriptive words the children have created wooden words leaves, and unique story cubes to inspire creative story telling.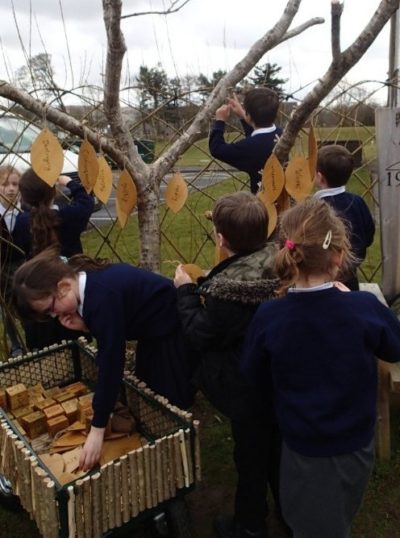 St Cuthbert's Green Man
Continuing our Natural Connections project with St Cuthberts the children have created a beautiful green man sculpture to live at school. Over the last few years they have shared time in the woods at Footprint NT deepening their connection, exploring the natural cycles of the woods and learning lots of new skills whilst creating artworks to remind them of the woods whilst at school. [birch, hazel, willow, copper]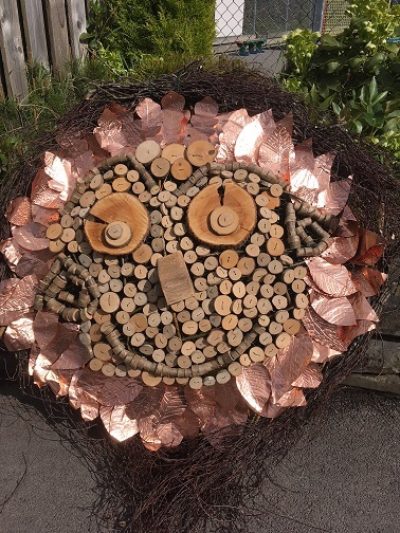 Wildernest
Lots of fun is being had down on the shores at Baycliff with the Wildernest Arts Project, there's been sound walks with hydrophones and wireless headphones...a natural 'silent disco'!, writers sessions and we ran a natural arts bushcraft day.
SAT 28 JULY - WILDERNEST OPEN DAY 2pm – 6.30 pm. Live music; Rusty Roxy animated sideshow, from Hannah Fox; waterfall; driftwood sculpture; twittering garden of whirlygigs and weathervanes; magical observation pod by Duncan Copley; hands on activities, follow the trail, taste fresh samphire soup; coastal critters with local ecologist Richard Scott BscBring a picnic and a folding chair if you wish. Flags. Campfire. Surprises. All FREE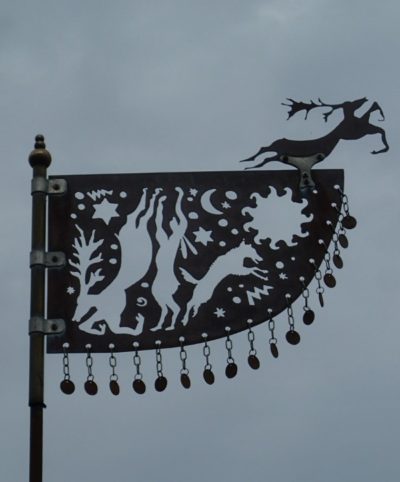 Woodshare Community Membership Scheme
We celebrated the end of this years Woodshare season with an early morning trip to Brigsteer Hide at Park End Moss. Apart from being a great place to watch birds, the hide is special to Woodshare as it is on the edge of Brigsteer woods where the Woodshare Scheme began 7 years ago. Also the Larch used in its construction is from the 2015 Woodshare site at Low Park. This year we've been continuing the work to re-introduce the coppice cycle to Low Park Wood to increase the biodiversity of the site whilst ensuring that the cut wood is used efficiently to warm the homes of Woodshare Members.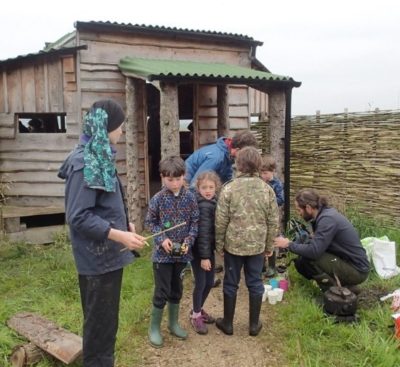 Chugging Charcoal
Our charcoal kiln has been busy chugging away in the woods...there is always something magical about the smoke and steam rising in the early morning light. Captured beautifully in this photo by Toby Travis which inspired his wonderful lino cuts below.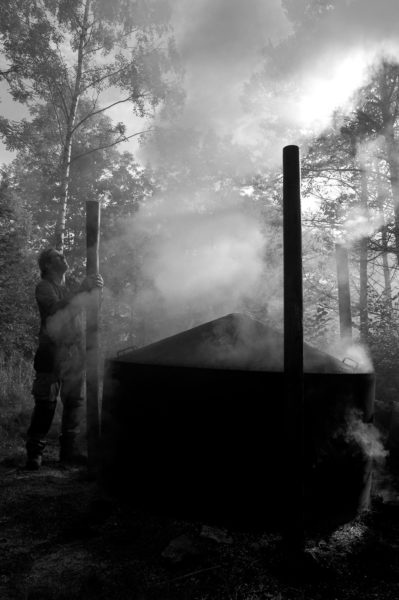 POEM CORNER...
The Charcoal Burner by A.A Milne (artwork Toby Travis)
The Charcoal Burner has tales to tell.
He lives in the forest,
alone in the forest;
he sits in the forest,
alone in the forest.
And the sun comes slanting between the trees,
and rabbits come up, and they give him good morning,
and rabbits come up and say, 'beautiful morning'...
And the moon swings clear of the tall black trees
and owls fly over and wish him goodnight,
quietly over to wish him goodnight...
And he sits and thinks of the things they know,
he and the forest, alone together —
the springs that come and the summers that go,
autumn dew on bracken and heather,
the drip of the forest beneath the snow...
All the things they have seen,
all the things they have heard:
an April sky swept clean and the song of a bird...
Oh, the Charcoal Burner has tales to tell!
and he lives in the forest and knows us well.